We were thrilled to receive the Bank of Ireland gold coin from Andrew Keating for being champions of Inclusion and Diversity. These were awarded to a number of individuals and organisations who are championing workplace inclusion.
The story behind the gold sovereigns in Bank of Ireland is fascinating – For over 40 years, Irish women were prevented from pursuing their careers by a law – the marriage bar. This was introduced in 1932, it was finally abolished in 1973 when Ireland joined the European Union.
The gold sovereigns were given to women who were leaving the workplace from Bank of Ireland as a 'good luck and thanks' for their efforts. Recently, the coins were found in a vault in the bank and they decided to put them to good use by awarding them to people who are striving to make the workplace a level playing field.
We are honoured to stand shoulder to shoulder with other recipients; Sharon McCooey, Head of Linkedin Ireland, The 30% club and Gillian McGrath of Change, Grow, Succeed.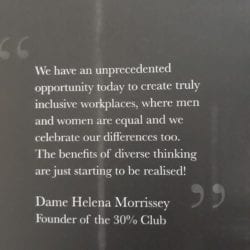 The gold sovereigns have come a long way from the days when they confirmed that a woman's career was over.
'For us, they have become symbols of how far we have come as a society and as an organisation,' Andrew says.
We certainly have come a long way since then, but there is plenty of work still to be done. We, here in Employflex, are all about solutions – enough talk now, we need action. We truly believe that offering real flexible work can keep everyone in the workplace, help reduce our carbon footprint, drastically reduce gender pay gaps and lead to a happier and healthier workforce.
We are excited about leading the #flexiblework revolution in Ireland into 2020.
Life is Short. Work Somewhere Flexible.